Copyright 2010, All Rights Reserved, Andrew McCole and LoneStar Hypnosis and Hypnotherapy, Austin Round Rock, Texas
Hypnosis and Hypnotherapy
Breathe a sigh of relief... Your search for hypnosis is over. You want the
facts. You want the truth. You want the best. You want affordable. And
you've found it all.

And now, even if you cannot make it to our office, we can still help you
remotely. Click here for details.

Have you ever wondered whether or not you can be hypnotized? Our
simple, yet highly accurate Hypnosis Quiz will let you know, and give
you some useful hints.

Knowledge is power. This site contains a wealth of information on
hypnosis and hypnotherapy. Get all the facts and learn the truth, so
that whether you decide to come to us or not, you can be sure you are
making a decision based on sound knowledge and intelligent research.
We hope you will join the successful thousands who have trusted us to
help them with hypnosis since we started in 1985.

Our reputation speaks for itself. Our results with weight loss hypnosis and
quit smoking hypnosis are unparalleled. We also take away your risk
and stand by our programs by offering our exclusive double guarantee
(click the logo to the right for details).

We also have proven and consistent results with stress management,
fears, shyness, confidence, stage fright, motivation, willpower, energy increase,
memory improvement, focus, speed reading, test worries and better sleep. We also specialize in sports hypnosis (including golf hypnosis and practically every other sport).

The majority of our clients learn our cutting edge techniques for instant self-hypnosis and NLP. We are also one of only a few hypnosis centers that specialize in Medical Hypnosis (you may need referral from your physician). Many people use hypnosis for depression, anxiety and also insomnia. The list of hypnosis applications is endless.

We see clients of all ages. Hypnosis for children is becoming extremely popular. Children do extremely well with hypnosis. We also make all our sessions available on hypnosis CDs and hypnosis Mp3s, and can also make customized subliminal recordings to enhance the hypnotic effect.

We have pages of genuine testimonials and proof on this site, and many books filled with even more at our office. So don't take our word for it - see why real people, just like you, chose us.

Hypnotism is conducted by Andrew McCole CH, acclaimed hypnotist from London, England. Learn more about us by clicking our menu buttons, or see our site map. Thank you for stopping by, and we hope to see you in person soon at our office in Round Rock, Texas.
As you can read elsewhere on this site, Weight Loss Hypnosis has excellent results as a standalone method. However, extensive experience has also shown that it works wonderfully to complement other weight loss programs. By changing the subconscious programming, hypnotherapy for weight loss often adds the vital missing component, and removes the blocks to success with other programs. Hypnosis and hypnotherapy can also help with the depression and anxiety many people feel when they are overweight.

Although we do not endorse these programs, using hypnosis for weight loss we have helped clients who have participated in many diet programs, including the following: South Beach Diet, Lindora, Atkins, The Zone, Weight Watchers, Jenny Craig, Sugar Busters, Alii, NutriSystem and Slim Fast.
Many smokers have tried other methods with little or no success. We are often asked if hypnosis for quitting smoking is compatible with Chantix, Zyban, Nicotine Patches and Nicorette Gum. Experience shows that they do not hinder hypnosis at all. They may provide additional help for some people. If you would like to use them with hypnosis it will not be a problem, although we cannot endorse these products.
Weight Loss Hypnosis News
Quit Smoking Hypnosis News
Latest Updates
Tips for our Self Hypnosis Students
Self Hypnosis is extremely fast and effective compared to alternatives, but it can still take time to change. Years of unwanted behavior can be changed in days or weeks, but it is rare for the changes to occur overnight. The effects of self-hypnosis are accumulative. As with all self improvement, progress generally has ups and downs - with the general trend being upwards. Some days are better and easier than others. This is a necessary and natural part of changing.

Some resistance from your subconscious is also natural. It doesn't want to change. If it did you wouldn't need self hypnosis in the first place. It is a sign that your subconscious is responding to the hypnosis, and it will soon pass. If you are practicing regularly then positive changes are taking place even if you are not consciously aware of them yet. The mind works in mysterious and individual ways, and it cannot be predicted exactly how it will respond at each stage. However, long-term results can be predicted - and this is where your attention should be focused. So be persistent and stick with it. You'll be successful very soon.

Another tip: If you suffer with insomnia and sleep problems practice self-hypnosis when you go to bed. Many people fall asleep when practicing at this time, and this would be a great aid if you have insomnia.
---
---
Our Area of Service:

Lone Star Hypnosis serves central Texas, including the communities of Austin, Round Rock, Georgetown, Pflugerville, Hutto, Taylor, Jollyville, Brushy Creek, Cedar Park, Leander, Windemere, Wells Branch and all surrounding areas in Williamson and Travis counties.
Check this section regularly for the latest updates and hints.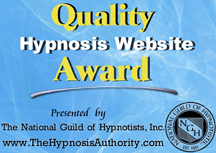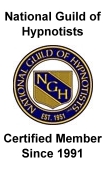 HypnosisOnline Excellence Award