Copyright 2010, All Rights Reserved, Andrew McCole and LoneStar Quit Smoking Hypnosis and Hypnotherapy
More Quit Smoking Hypnosis Results
Here are just a few more samples of what our clients have
to say. You can also come to our office and see our
testimonial books, posters and videos. You see, we
don't want you to take our word as proof of our
success. See what other people just like you
have to say.


A. Currie quit 40 cigarettes a day after 30 years.

You are right that the patches don't work. I've spent a fortune
and failed every time. My new doctor recommended you highly.
When I came in I didn't believe I could quit a 30 year addiction of
smoking 40 a day without a lot of time. But it took only 3 sessions
like you said it would. I am feeling better every day. Breathing is easier.
The cough is going. Like you said I feel I have a whole new lease of life!
I thank you and my doctor for referring me to you. So does Mary and the kids.

Linda Huerta quit smoking 20 a day after 20 years.

I had to quit for health reasons, not because I wanted to. After hypnosis I was confident and did not feel nervous or go through withdrawal symptoms. It was so much easier to quit than I thought. I was very calm and relaxed. I feel in control now. It feels wonderful - I no longer have to smoke. People say they are proud of me, I smell good and look better. I have had much relief from my asthma. I have more time.

Marla Posemsky quit 20 + a day addiction.

I've been to two other hypnotherapists and never felt any results. But after your sessions I finally feel like I have some control over my life. It's a very liberating feeling! Very successful! Works like magic!

Louise Feldman quit smoking 20+ a day.

It is hard to believe that I quit in only two sessions! It was easy and actually fun to be so successful at this. This success has made me feel a lot better about myself.

Debra quit 15 + a day habit.

I was able to finally quit smoking without any jitters, irritability and without any desire to lapse into old habits!! I feel totally empowered and in control. My health and mental attitude has taken a huge leap into the positive.

Peter Grant relieved stress and lowered blood pressure.

You have helped me to relax and reduce my blood pressure. It is now 135 over 80 without any medication for three weeks. I have got many benefits from hypnotherapy. My mind is clear, concentration is improved, I am in control and have an inner calmness.

Ron Nicholas quit 50 a day.

As a smoker of 50 a day I didn't believe I could quit. I was very skeptical at first, but you really opened my eyes at your initial consultation. Thanks to you and your talents I have not even thought of smoking for 2 months. I never got any withdrawal. Even when others smoke it is not a big deal. I still find it hard to believe how easy it was. I have saved more than I paid you already. I have not put on a single pound.

Carrie Peters quit 20 a day.

I have gone from a 20 a day habit with stress and coughing to zero a day with clearer lungs, and getting better every day. I used to use my inhaler 4 or 5 times a day, but now just once a day and sometimes not at all. This really works! When I stopped before it was hell and it didn't last. But your hypnosis makes it seem effortless. Really! I am more relaxed. I breathe easier. I sleep better. I am getting fitter. You are a great hypnotist. Your services are worth every penny and more. I am not even tempted to smoke. That's really amazing.



Naturally, results do vary from person to person.

Names may have been edited to respect the privacy of clients.
Testimonials can be viewed at the office.
---
Our Area of Service:

Lone Star Hypnosis serves central Texas, including the communities of Austin, Round Rock, Georgetown, Pflugerville, Hutto, Taylor, Jollyville, Brushy Creek, Cedar Park, Leander, Windemere, Wells Branch and all surrounding areas in Williamson and Travis counties.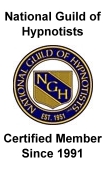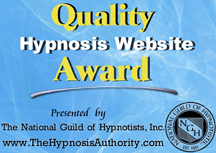 HypnosisOnline Excellence Award