Weight Loss Hypnosis and Hypnotherapy
End the Yo-Yo Diet Syndrome
---
Our Area of Service:

Lone Star Hypnosis serves central Texas, including the communities of Austin, Round Rock, Georgetown, Pflugerville, Hutto, Taylor, Jollyville, Brushy Creek, Cedar Park, Leander, Windemere, Wells Branch and all surrounding areas in Williamson and Travis counties.

Copyright 2010, All Rights Reserved, Andrew McCole and LoneStar Weight Loss Hypnosis and Hypnotherapy
Freedom From FAT Solution
FINALLY! A simple, down-to-earth, step-by-step approach
to weight loss & maintenance. A proven system, designed
for genuine, lasting results. Discover how so many of our
clients lose weight effectively, boost their metabolism
safely, & break free from the misery of fat.

Is This You?
You're tired of losing the same weight over and over. You've tried every diet and
fad imaginable. All of your well intentioned, painful efforts failed.
Well, you are not alone. Only 2% of dieters keep their weight off for 5 years.
More than 60% of Americans are overweight. On top of the health problems,
many overweight folks suffer from poor self-esteem, embarrassment, anxiety,
and even depression. Sound familiar?
The cost of treating health problems caused by the U.S. obesity epidemic reached
an estimated $75 billion last year. Over $30 billion spent on diet products, pills, fads
and centers each year has proven one undeniable fact:
DIETS DON'T WORK
! So
what can you do? Is there hope?

YES!!!
Finally, you have a real and genuine opportunity to lose excess fat.
The
Ultimate Freedom From FAT Solution
combines scientifically proven
strategies with state of the art hypnotic procedures. With this innovative combination,
we offer you a chance for lasting weight loss without the usual suffering, failure, misery
and deprivation associated with dieting.

So What's Next?

It's simple. If you are serious about losing weight and want to end the failure cycle, then call us for a FREE, no obligation, no pressure,
Hypnosis Screening
. Find out if hypnosis for weight loss is for you. Then breathe a sigh of relief and prepare for success!

Click the top menu buttons for more details about this program.

Hurry to take advantage of our savings offers while they last!
Weight Loss Hypnosis Hints
As you can read elsewhere on this site, Weight Loss Hypnosis has excellent results as a standalone method. However, extensive experience has also shown that using hypnosis for weight loss works wonderfully to complement other weight loss programs. By changing the subconscious programming, hypnosis often adds the vital missing component, and removes the blocks to success with other programs.

Although we do not endorse these programs, using hypnotherapy for weight loss we have helped clients who have participated in many diet programs, including the following: South Beach Diet, Lindora, Atkins, The Zone, Weight Watchers, Jenny Craig, Sugar Busters, NutriSystem and Slim Fast.
Latest Updates
Several clients have asked me for an opinion regarding the new over-the-counter fat absorbing pills (which are simply a weaker version of the prescription ones). In theory, they prevent digestion of up to 25% of the fat you eat. The manufacturer recommends eating less than 45 grams of fat a day. This is about 400 calories. So the maximum calorie reduction is about 100 calories. This is a best case scenario.

For most people we can realistically reduce that to a measly 75 calories. Assuming the body burned stored fat to match this (which will only partially happen) it would take about seven weeks to burn one pound of fat. I think 12 weeks would be more realistic for most people. And during that time there are those troublesome side-effects to worry about.

So, is it worth it? You'll have to decide for yourself. I believe it is smarter to use safe, natural, rational ways of losing weight, and keeping it off. Like Hypnosis for Weight Loss.
Combining Weight Loss Hypnosis with Other Methods
Check this section regularly for the latest updates and hints.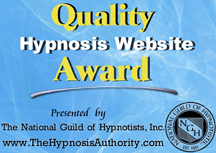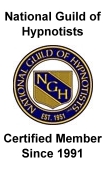 HypnosisOnline Excellence Award