Here's How it Works:
---
Hypnosis Prices, Fees and Options
Copyright 2010, All Rights Reserved, Andrew McCole and LoneStar Hypnosis and Hypnotherapy
The short answer is, "Yes, you can". Especially with our latest deals!
Even our longest and most expensive programs usually cost a fraction of
alternatives. We also have affordable, interest-free payment plans that suit
almost anyone's budget.
The Price?

Program sessions average at about $100 for most people. This can be
more or less, depending on program length and discounts taken. See our
coupon page for GREAT SAVINGS. Of course, longer programs tend to
cost more than shorter ones.
To find out what it would cost for your individual needs please call us.
Please understand that since clients come for so many different issues,
and there are so many program variations that we really need to find out
more about
you
first. We don't devalue our practice by offering a
'cookie-cutter' service that is the same for everyone.
We also offer a FREE hypnosis screening so we can be even more specific and make sure hypnosis is something that can work for you.
We want you to be absolutely sure before you part with a single penny.
Here are some facts about our fees:

1. Are we the cheapest? Not always, although we are very competitive.
And you get MUCH more for your money. Do beware of cheap scams!
2. Are we the most expensive? Not at all. Nowhere near!
3. Are we the best value? YES, our research has not found any better.
4. Are we the most qualified and experienced? Without a doubt!
We offer great value, with great results. However, if you are looking for a 'too-good-to-be-true'
snake oil salesman to sucker you in and possibly cause you damage while stealing your hard earned money, you should really look elsewhere.
Be Smart

We all know that times are tough. We all want a bargain. But don't let that desire get you ripped off! There is far too much of that nowadays. Use knowledge and facts to help you make a decision. This site has an incredible amount of information to help you. Check it out, verify it as you wish, and use it!
As you can read in our
warnings
section, a decision to use hypnosis isn't something you should make lightly. If the only thing that matters is finding the cheapest price, then do understand there are some cheaper hypnotists out there, including some scary ones!
This is
not
like researching who sells the cheapest milk. Milk is milk. But all hypnosis is NOT the same! There are some unscrupulous, poorly trained opportunists. Many make claims they can not back up. Remember that hypnosis is not regulated. If you get ripped off you haven't saved a penny. If you don't get results you have wasted your money. Please be smart.
I am assuming that if you have read this far you are intelligent and eager to make the right, safe choice. So let me explain a little about our fees.
Our fee structure might be a little different than you'd expect. And this is good news for you! It gives you better value and much more flexibility.
Our Area of Service:

Lone Star Hypnosis serves central Texas, including the communities of Austin, Round Rock, Georgetown, Pflugerville, Hutto, Taylor, Jollyville, Brushy Creek, Cedar Park, Leander, Windemere, Wells Branch and all surrounding areas in Williamson and Travis counties.

Can I Afford Hypnosis?
Firstly, we avoid charging like a regular therapist, session by session, in a course that can last for ever. We have a superior system that serves our clients far better, and allows then to save money, while getting much more support. It is our renowned support that has made us so successful.
What we do is create a unique program for your unique needs. You can terminate a program any time you choose, and add or subtract sessions as you wish. There is a lot of flexibility. By enrolling in a program you have the advantage of subscribing to many benefits that you don't usually get, such as:
· A huge savings.
· Extra support.
· Support between sessions where needed. We are there for you 7 days a week.*
· Free customized CDs and subliminals to use between visits.
· Free self hypnosis training available.
· Ongoing support, if needed. This can last anywhere from one year to LIFE, depending on the
program options chosen.
· Free follow-up sessions are an option with most programs.
· The ability to adapt your program to meet your needs and schedule.
· You can increase or decrease a program to suit your needs.
· The convenience of being able to do sessions at home when needed.
*Although we try to be available as much as possible there are obviously times when we are
otherwise engaged, and may need to get back to you.
How to Save Even More

Because of the flexibility it gives us to 'see' clients outside of our prime times, there are also significant savings for 'at-home' sessions. These are sessions where instead of coming to the office, we consult over the phone and then record a hypnosis session for you and deliver it.
It is just as effective as coming here.

The advantage is that you save money and time, and can add more flexibility to your program. You can choose to do as few or as many of these sessions as you wish, to fit your budget and time needs.
We developed this service due to a demand from clients who could not make it to our office, or were out of our area. Or for those who could only make it to us occasionally. It is also good for sick clients.
Click here
for more details.
Remember, our at-home programs are customized and created exclusively for
your
needs. They are not cheap, generic copies that only work for a select few. That is what makes us more than a cut above the rest.
Lastly, and Very Importantly

Any hypnosis program should be considered an investment. Unlike many of the material comforts we invest in, the benefits of self improvement don't become unfashionable, outdated, or rusted. The benefits might not be tangible in the same way a new gadget or car is, but they are strongly felt nonetheless. The effects permeate everything you do, and can add a lasting quality of life that just cannot be bought in a store. The value can be priceless.
An important consideration is that most successful clients save more money than their programs cost. These savings come from food, medicines or lifestyle changes. Also, the increase in confidence, motivation and focus most of our clients achieve tends to help them earn more professionally. Many come to us for just that purpose. For many, our programs end up being better than free!
It is a sad fact of our modern society that we place so little value on our happiness, health and wellness. Without these qualities we cannot even enjoy the things we possess, or fully appreciate the people who are close to us.
If you have read this far you are very aware that the distractions of life are not enough. Whatever your goals with hypnosis you have our promise that, with your cooperation, we will do our utmost to help you achieve them. So please call us to set up an appointment for a no obligation, no pressure,
free hypnosis screening
that could be the start of a whole new life for you.
512.988.1066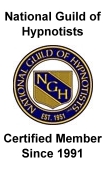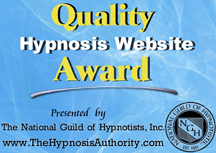 HypnosisOnline Excellence Award